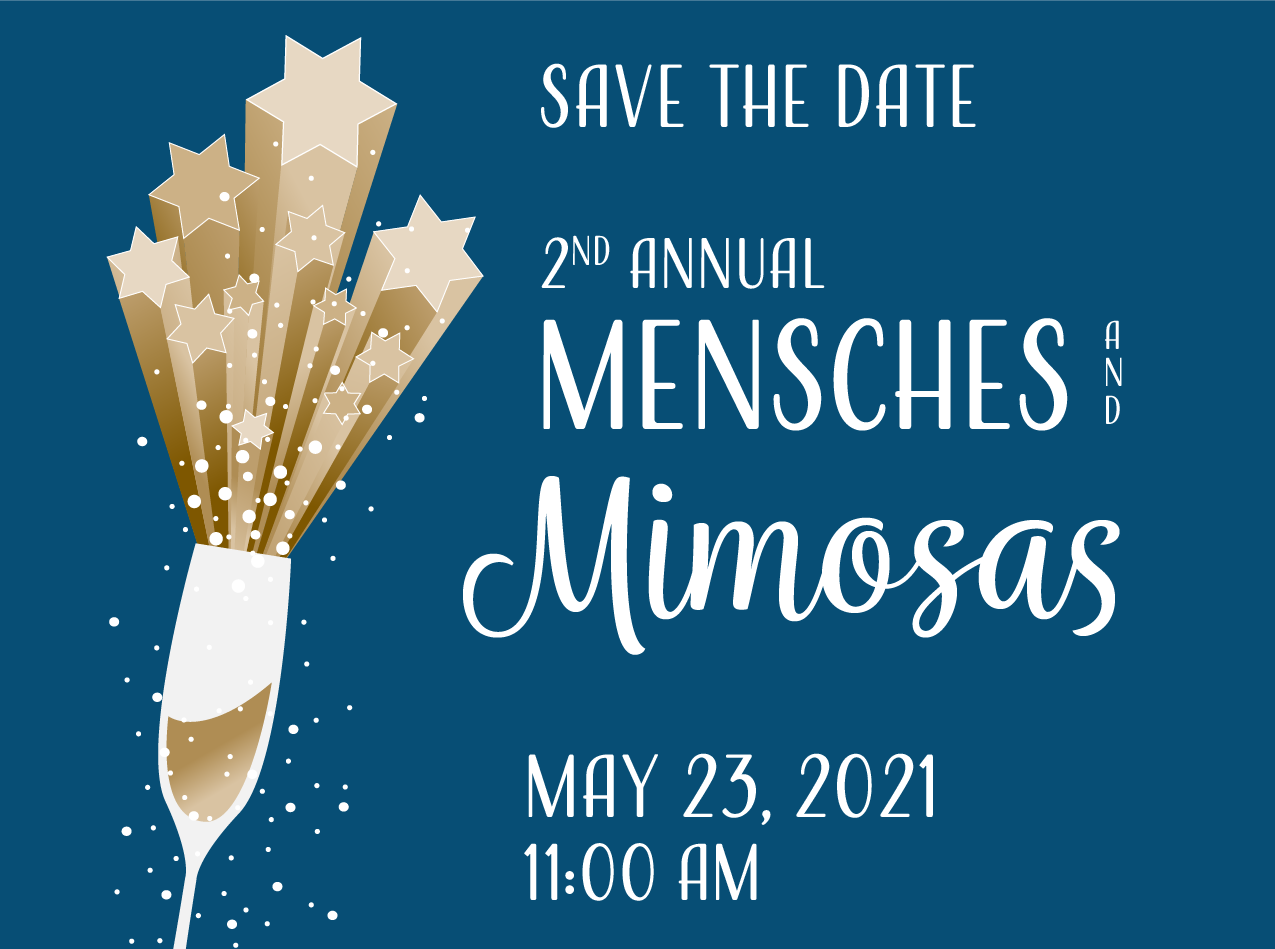 Jewish Family Services is delighted to be hosting the 2nd Annual Mensches & Mimosas community-wide celebration of mensches — men and women who selflessly give their time, their passions, and their hard work to our community agencies and synagogues.
We asked our partner institutions to nominate an honoree mensch and our twenty-three 2021 mensches are listed below.
JOIN OUR VIRTUAL CELEBRATION!
Sunday, May 23, 2021 at 11 a.m.
We're bringing the community together for the
2nd Annual Mensches & Mimosas!
We know you won't want to miss this opportunity to become a
Sponsor or to join our Honorary Committee and pay tribute to our honorees, while supporting the services of JFS. (Online form coming soon.)
In order to be recognized on the invitation, we will need your response by Monday, March 15, 2021.
We hope that all Sponsors and Honorary Committee members will attend
the virtual celebration and toast our truly honorable menschen.
If you have any questions, please call Monica Tan at 518-516-1104 or email jfsevent@jfsneny.org.
2021 HONORABLE MENSCHEN
Helene Ainspan
CONGREGATION OHAV SHALOM
Joseph Bierman
CONGREGATION BETH EMETH
Steve Caruso
MAIMONIDES HEBREW DAY SCHOOL
Nancy D. Bell
TEMPLE ISRAEL
Evy & Larry Farbstein
CONGREGATION BETH ABRAHAM JACOB
Victor Friedman (z"l)
CONGREGATION GATES OF HEAVEN
Bruce Ginsburg
DAUGHTERS OF SARAH SENIOR COMMUNITY
Billy Golderman
SIDNEY ALBERT ALBANY JEWISH COMMUNITY
CENTER
Judy Gaies Kahn
SHALOM FOOD PANTRY
Gail Kendall
HEBREW ACADEMY OF THE CAPITAL DISTRICT
Arthur Kline
JEWISH FAMILY SERVICES OF NORTHEASTERN NEW YORK
Therese Lowenthal
TEMPLE SINAI
Becky & Ben Marvin
B'NAI SHOLOM REFORM CONGREGATION
Flo Miller
CONGREGATION BETH SHALOM
Christine Parisi
CONGREGATION AGUDAT ACHIM
Rona J. and Louis-Jack Pozner
JEWISH FEDERATION OF NORTHEASTERN NEW YORK
Ilene Sykes
HILLEL AT UNIVERSITY AT ALBANY
Marty Wigler
COLONIE CHABAD CHAI JEWISH CENTER
Jessica Yankulin
BETHLEHEM CHABAD
Gordon N. Zuckerman
SCHENECTADY JEWISH COMMUNITY CENTER