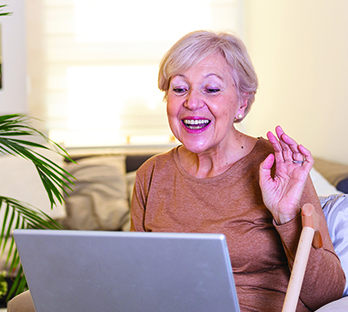 JFS is providing virtual groups for teens, adults and seniors*. We are waiving fees for these groups and they will be facilitated by JFS clinical staff.
Activities for Emotional Well-Being
Do you want to feel more engaged, energized, calm, and purposeful?
If you, or someone you know, are feeling tired, burned out, anxious, depressed, not as engaged as your peers, or just "not yourself," this group is for you.
We will discuss how to use activities to improve your mood, minimize boredom, increase feelings of purposefulness, and reduce isolation. All of our activities can be modified to ensure your comfort and safety. The goal of this group is to find a healthy balance between our obligations, values, and leisure activities.
Mondays: 1:30-2:20 p.m., 10/5.
NOTE: Please register by the Wednesday before each week's meeting as we will hold the group only if there are a minimum of three registrants by that date. If there are not enough registrants, you will be notified prior to the scheduled date.
To register, email info@jfsneny.org, call 518-482-8856 or register online here.
Mission Impossible: Parenting During COVID-19
Parents are stretched to the limit, but our kids need us more than ever. If this feels impossible, that's because it is! Join other parents for a weekly group that offers supportive encouragement on a range of "how tos":
keep young children entertained
share work time and space with a spouse
address and maintain emotional health
making deliberate connections with friends during this often-isolating time
and so much more
Please join us if you are up for giving and receiving support as we continue to manage our kids, our families and our own needs throughout the summer.
This group is open to parents of children of all ages (infancy through high school).
Facilitated by: Claire Greenhill, MS
Thursdays, 8:00 p.m., 10/1, 10/8, 10/15, 10/22, 10/29
To register, email info@jfsneny.org, call 518-482-8856 or register online here.
Coming Up for AIR: A Discussion Group for Seniors
Facilitated by the JFS Senior Resource Network team, this group is for older adults to discuss Aging Information and Resources and other timely issues. We will address staying connected when you feel disconnected, coping with the barrage of changes and realities that impact your life, maintaining safety in your home, preserving healthy habits and self-care, and more.
Facilitators: Erin Plonka, LMSW, Lynda Shrager, OTR, MSW, CAPS, and Clara Simon, MSW.
Tuesdays, 4:30-5:30 p.m., September 29, October 6, 13, 20
To register: 518-482-8856, info@jfsneny.org or online form.
Student Chat
This group is for middle- and high-school students experiencing frustration with being stuck at home. We'll talk about what it's like being trapped with your family full-time, missing your friends, the loss of school activities, and other stressors.
Facilitators: Claire Greenhill, MS, and Lauren Weisberg, PsyD
This group will resume in October. Date to be announced.
To register: 518-482-8856, info@jfsneny.org or online form.
Once you register, you will be emailed a link / phone number to join the group via Zoom, an online, interactive platform with video — but you can also simply call in! If you need one-on-one help accessing Zoom, please contact JFS.
* More groups being added. Please be in touch to suggest additional topics.