When:
February 25, 2021 @ 1:00 pm – 2:00 pm
2021-02-25T13:00:00-05:00
2021-02-25T14:00:00-05:00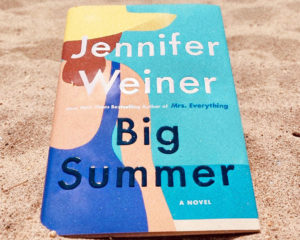 We don't know about you, but in the middle of a pandemic winter, we sure could use a beach read! Touted by Entertainment Weekly as "the beach read to end all beach reads," Jennifer Weiner's novel, Big Summer, may be the perfect antidote to the melancholy wrought by gray winter days.  The publisher describes this 2020 release as "a deliciously funny, remarkably poignant, and simply unputdownable novel about the power of friendship, the lure of frenemies, and the importance of making peace with yourself through all life's ups and downs."  So how 'bout we turn up the thermostat, sport our coolest shades, whip up a batch of frozen daiquiris, and swan dive into a discussion of this "perfect quarantine read" (USA Today)?!
NNORC uses Zoom (online video and audio conferencing) so we can continue to offer you programs. If you prefer not to use a computer or smartphone to participate, all you need is a telephone line to join in.
To sign up for a program, please call 518-514-2023 or email nnorc@jfsneny.org. We will give you an access link or phone number for you to participate. Please contact us for a one-on-one Zoom tutorial.