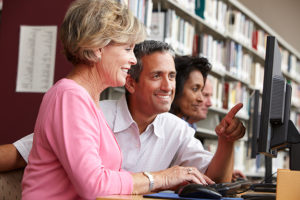 Have you taken advantage of our basic computer skills class?  We have three volunteer mentors from the NNORC who are teaching skills and answering questions about computers and devices. Your NNORC neighbors are coming in with questions about how to: get photos from their phone to their computer; use an ipad; connect to wifi; watch a video; and more.
If you have strong computer skills and feel you would make a good computer instructor, let us know if you are interested.
DATE: Mondays, August 6 & 20, September 10 & 24, October 8 & 22
TIME: 12:00 p.m.
PLACE:  APL's Bach Branch (455 New Scotland Ave., Albany)
RSVP:  Please call NNORC to register at 518-514-2023