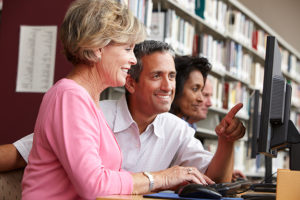 Do you want to make better use of your electronic devices? Your NNORC neighbors are getting individual training on how to: get photos from their phone to their computer; use an iPad; connect to wifi; watch a video; and more. We have volunteer mentors from the NNORC who are teaching skills and answering questions about computers and devices.
Please bring your questions and your charged tablet, phone or laptop (Apple or PC).
If you have strong computer skills and feel you would make a good computer instructor, let us know if you are interested.
DATE: Mondays, February 11 & 25, March 11 & 25
TIME: 12:00 p.m.
PLACE: APL's Bach Branch (455 New Scotland Ave., Albany)
RSVP: Please call NNORC to register at 518-514-2023