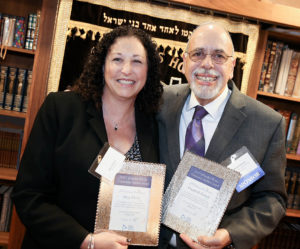 On October 19, 2017 JFS honored Amy Klein and Fred Erlich for their outstanding contributions to making our world a better place.
JFS demonstrates and embraces the Jewish value of tikkun olam—repairing the world—in all our community based work. Our Annual Celebration recognized the commitment of our honorees to serve humanity with humility and to act as role models for future generations. They will be presented the Anschel Weiss Community Builders Award.
Fredrick Erlich is founder and CEO of Living Resources, a not-for-profit health and human services agency that serves more than 2,000 people across 14 programs throughout the Capital Region.
"I am honored to receive the Jewish Family Services Community Builder Award. As a previous board member, and passionate advocate for individuals and families, the mission and work of JFS speaks to my heart, said Fred Erlich. "I am deeply humbled by this award and recognition. Anschell Weiss was a friend, colleague and fellow Rotarian who was a consummate professional and demonstrated the highest ideals. May we all continue to repair the world, serve with humility, embrace our differences, and build vibrant communities, he added.
Amy Klein is CEO of Capital Roots, which works to reduce the impact of poor nutrition on public health the Capital Region through community gardens, access to healthy foods, nutritional and horticultural education and urban greening programs.
"It is humbling to be recognized with the Anschel Weiss Community Builders Award. I consider it a great honor to serve the community each day through my work at Capital Roots, helping to make our neighborhoods and families healthier.  As Anschel has, I hope that I can inspire others on their paths to create change in our world," said Amy Klein.
Corporate Sponsors
We are grateful for the support and generosity of this year's corporate sponsors:
The Massry Family — TriCity Rentals
The Mortimer and Barbara Klaus Family Foundation
Living Resources Coporation
Albany ENT & Allergy Services, PC
Fact Finders Inc.
Jessica L. Richer Licensed Associate Real Estate Broker – Howard Hanna Commercial
Shenker Russo & Clark, LLP
Colonial Cleaners
Our Annual Celebration was held at Shabbos House and catered by Raizy Rubin. Her ability to prepare delicious, creative food is unsurpassed! We are grateful for our longstanding relationship with Shabbos House.