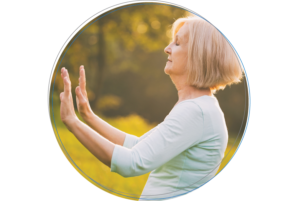 Through gentle movements, meditation, visualization, energy and breath work, the 5,000-year-old practice of Chi-Gong can empower us to become active participants in our own physical, mental and emotional healing.
Those who practice Chi-Gong regularly report its benefits:
Relieves aches and pains and helps with the healing of a variety of health conditions
Provides gentle, quiet grounding and inner peace for those with depression, anxiety or panic attacks
Helps stabilizing the emotional "rollercoaster"
Brings relief, calm and a sense of well- being
No previous experience or special props are needed to do Chi-Gong. All physical abilities and limitations are welcome.  The practice can be done seated or with a chair for support. Wear clothing that allows for comfortable movement.
Instructor: Oded Ben-Ami is a certified Chi-Gong teacher who has throughout our area.
Join us for a six-week series:
DATE: Thursday, 12/20
TIME: 11:00 a.m.-12:00 p.m.
PLACE: St. Sophia's Greek Orthodox Church, 440 Whitehall Rd, Albany.
RSVP: Registration is required. Please call NNORC at 518-514-2023.